Four Months of Intensive Massage Continuing Education.
Studying with Massage Experts from all over the world.
In…Costa Rica = The Experience of  a Lifetime!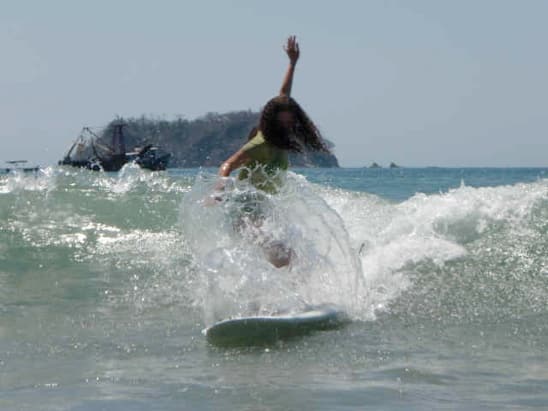 Costa Rica Adventures….and US Return!  July /08
You've been in my heart and my thoughts; I'm wishing you all that is wonderful!
For a country that is so "Tranquillo" at heart, I'm shocked at how quickly my time in Costa Rica has flown by. Although the Costa Rican culture may have been a more relaxed pace…my course work certainly was not. I have learned so much during my 4 plus months in Costa Rica. I have so much to share, I feel it may bubble over 🙂
I've studied with some amazing individuals and I consider myself so very blessed.
During a course involving reconstructing the human muscular system out of clay, I gained a new appreciation for the Flexor and Extensor Retinaculum. It's connective tissue around your wrist where several of your forearm muscles attach. The Flexor Retinaculum covers your carpel tunnel and I have found this to be so soothing for me and can't wait to bring these techniques back to my clients.
While studying shiatsu I was taught an advanced flying shiatsu move that involved completely suspending a person in air…this helps relieve low back tension and spinal congestion. Don't try this at home!
I find essential oil properties to be astounding discovering that certain oils can not only have medicinal values but also emotional; inspiring such feelings as being grounded or even creativity!
Incredible focus has been paid to my movement, posture, and I've actually had to teach myself to walk all over again. This time with different focus and intention on making sure my body is stacked properly and that I am focusing on using the correct muscles. It may sound strange but it makes a wild difference.
This last semester also included lots and lots of tests, finals etc.
Certainly not my favorite part, however it was an opportunity for me experience hours of testing and become slightly more at ease… Testing outside during howler monkeys howling sessions, roosters, bulls, torrential downpours, giant mason material being poured, and dogs chasing chickens and iguanas…I even had to take a test outside during a hurricane… The general consensus is that I will do just fine on my National Exam.
Prior to this last semester I did set out on an extended weekend adventure during our break. Hopped in a rental car and took adventure into my own hands. Costa Rica is very safe to travel, other than the fact that I took some of the craziest back dirt stone roads one can imagine. I had a blast and in three days I'd seen more beaches than I had my entire life. I also learned that driving on roads that are barely discernable as roads can sometimes lead you to amazing hidden beaches only visited by locals, the middle of absolutely no where, through rivers…and sometimes people's front porches… and occasionally…a flat tire. But everything went wonderfully and quite smoothly only the driving was bumpy!
The week of Graduation marked my husband's arrival in Costa Rica.
I still remember the high pitched shrill of my housemates "Giggle, Giggle, Cheryl, Cheryl…it's your husband". He was early, which of course lead me to leap from the shower, grab a towel and greet him with a giant wet hug.
Graduation was at an ECO-Friendly resort in Punta Islita right on the ocean. It was a beautiful affair far far from anywhere. After Graduation my husband and I embarked upon our own adventures. He was amazed at how I had adapted to the 'tranquillo' Costa Rican way and took steps to letting go and soaking in the Costa Rican Culture. And I was amazed that he found actual paved roads to drive on. Things did balance out and he had to cross a few rivers too! Our travels were absolutely amazing, led by feelings and sense of adventure it was a perfect mix of relaxation and adventure.
Costa Rica is so diversely beautiful and I can certainly make lots of recommendations if you're planning on making the trip!
We were actually in Costa Rica longer than we were expecting due to cancelled flights and so forth. I am still in the process of trying to find my phone and settling back in, in general. Email is currently the best mode of contact as I now have that set up….sort of interesting to get home, and have no phone or internet…and not being able to walk to an internet café…sort of primitive feeling. LOL. I have updated pictures on Snapfish and will continue to add, revise and edit albums. I can't wait to share, this was an experience of a life time. I encourage anyone if you really feel drawn to something, but think it's crazy, but could be oh so worth it…go for it. It'll work out, if you really feel drawn to it down deep than experiencing it will be the most amazing freeing realization.
I wish you all buoyant unending happiness!
Pura Vida,
Cheryl Adams
Massage Therapist
The Relaxation Spot
484-529-9979